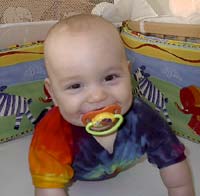 Lisa took my class in October 2000. As a lawyer, she wondered if her active logical mind would be an impediment to using hypnosis. Instead, she used it to her advantage and, with her determination and commitment to using the techniques she learned in class, had a beautiful birth experience, one that she described as "almost pain-free". Here is her story, in her own words.
I saw the Dateline video about women using hypnosis for birth when it aired a couple of years ago. Ever since seeing it, I had it in my head that when I had a baby, that was what I was going to do, because I just never heard of anyone having much success with Lamaze or other techniques. That was my starting point, and after some research, I found Carolyn.
In my HypnoBirthing class, there were only three women. For different reasons, none of our partners attended. For one of the women in the class, every single technique worked great for her. We learned a lot of techniques, and every time we would try a new one she would comment on how well it had worked, and how deep into hypnosis she went. But it wasn't like that for me right off. I had to work at it, and continue to practice.
There were a few elements that made it work for me. First of all, I needed evidence that this could actually work. One of the pieces of evidence was the Dateline video. It was interesting to see the woman have a pin stuck into her hand, and not feel it. It was especially helpful to see the women give birth painlessly after completing the class. Another piece of evidence for me was reading about a study done at UVM where hypnosis helped turn breech babies. It really proved to me that hypnosis can help control the body, and I just needed to apply myself and learn the techniques. So these pieces of evidence helped me to know, "OK, this is real. It's going to work."
And then, the other thing for me, was just confidence. I encountered doubts along the way, thinking, "Here I am practicing, but I don't know if it's working." So I just had to keep going, telling myself, "There's nothing different about my mind. If they could learn it, I can." I practiced a lot. I listened to a tape at least once a day, when I got home from work or before going to bed. Often I'd fall asleep during the tape, and other times I didn't feel I was responding well, but I didn't beat myself up over it, I just kept going.
Later on, I began to practice in my office. I would use a modification of the "light switch" technique. I would just let total relaxation flow through my body for a couple of minutes whenever I remembered or had a moment. Another technique that worked for me was focusing on relaxing the muscles in my jaw and face, and then my shoulders. If I could get those muscles to let go, I could really relax deeply.
When I first started listening to the "Affirmations" tape, I thought it was the hokiest thing I had ever heard. But it grew on me, and I started listening to it every day in the car on my way to work and on my way home. Instead of listening to the news, I started listening to the affirmations, until I had them all memorized.
For me, both the practice and the self-hypnosis I did during our baby's birth was really all about me. I was very internally focused. My husband's presence at the birth was so important, but not in terms of anything I wanted or needed to support my hypnosis.
When I got into my last trimester, I began to worry about having a breech baby. I don't know why I focused on that as a fear, but in order to counteract that fear, when I did my hypnosis practice, I would really focus on the baby being head down, and moving down in my pelvis. I just kept thinking about moving my baby down. When I was 34 weeks pregnant, the doctor told me I was 2 centimeters dilated, and the baby was all the way down in my pelvis. In my final private session with Carolyn, we were careful not to give any suggestions about the baby moving down any more, since you just can't know what power your thoughts have to influence that, and I didn't want to give birth too early.
I just kept thinking, "I've got to make it to 37 weeks. I've got to make it to full term." And I did. I worked right up to when my baby was born. I taught a seminar in Rutland on Thursday, I was lugging paint in Home Depot on Sunday, and then my water broke on Monday morning, and I gave birth later that evening. I was exactly at 37 weeks and one day.
After my water broke, I thought I should start listening to my tapes, light candles, and all that…but it just didn't fit. Instead, I had a lot of running around to do and things to organize. I wasn't sure how the hypnosis would fit in, but I figured I'd know when it was time to start.
My husband and I got to the hospital about an hour and a half after my water broke. I wasn't having any contractions at all. We walked around and went to look at the babies on the maternity floor. When I came back a half hour later and they checked me, I was 5cm dilated. And I hadn't yet had any contractions that I was aware of!
Then I started having what I thought felt like menstrual cramps. I decided to start using my self-hypnosis, then, and lay down on the bed, and began listening to my tapes. Although many people say they want to get up and walk and move, all I wanted to do was lay still.
I felt very far away from what was going on around me, but after a while, I realized that my nurse and sister-in-law, who was with me for additional labor support, wanted me to get into the shower. Although I didn't want to (I was very comfortable where I was), I took their suggestion. They were hoping to get the labor moving along more steadily, since I was having contractions, but they were still fairly far apart (about 10 minutes).
When I got up to move around, I felt a lot of shakiness in my legs and body. I didn't enjoy the shower much, because the water wasn't very hot and being upright seemed to aggravate the shakiness. However, the change in position apparently did move my labor along. I was in "transition" by now. When I got back into bed I felt much better, and was able to go back to deep relaxation. I would change positions occasionally.
There was only one time where I felt really uncomfortable, and I wouldn't even really call it pain. It was a very short period of time where I just didn't know what to do with myself. I would grab my tapes to listen and then I would throw them back to my husband. I just didn't know what I wanted. But that was a very short period of time, maybe 15 minutes, and then I was ready to push.
Pushing didn't come naturally to me at all. The nurses and doctor gave me feedback about what was most effective in my pushing. It hurt to push but was also a great relief. And the discomfort was very do-able – kind of like the feeling of stretching the skin between your thumb and forefinger if you push them apart as far as you can. I thought I pushed for an hour and a half, but my sister-in-law says I pushed for 27 minutes! When they came in wearing what looked like space suits, I knew I must have been getting close! I felt tired by then, and I decided that I'd better work hard and get the baby out. Our son was born 10 hours after my water broke, weighing 7 lbs 2 oz.
The birth was a really wonderful experience in my life. I had some fears as the birth approached, but actually giving birth was the easy part. Now that I'm back at work full time, I still use some of the relaxation techniques and they help me re-focus and utilize my time well.