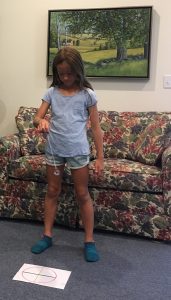 I work with children age 5 and older. For children younger than 5, I work through a parent or other significant adult to understand the problem and make an appropriate and helpful recording for the child. For children between the ages of 5 and 14 it is important for me to meet alone with the parent prior to my meeting with the child. This allows me to understand the situation fully and talk freely with the parent. It also allows me to run through some of the approaches I might use during the child's session and get the parent's guidance on what is likely to be the best approach for their child. For information about teen sessions, please visit this page>>
When you bring your child in for their first session, it is important that your child be as comfortable as possible. This makes it easier for them to learn the things that will help them. I will do some fun imagining exercises, that engage many children quite early in the session. They are not likely to feel 'on the spot' in the same way they might in other counseling situations, yet it is still a new situation and in that sense can feel uncomfortable in the beginning. To help your child be comfortable, here are a few things you can do.
1) Tell them whatever what might make sense to them about what the appointment is, e.g getting help with ____ (whatever they want help with); learning relaxation techniques; learning ways to feel less worried; etc. Using the word 'hypnosis' usually conjures up all sorts of strange ideas, so it is not always the best strategy (though sometimes it is helpful as it can pique curiousity and sound like fun, which it is likely to be).
2) Feel free to bring snacks or other activities with/for them, so that they can warm up to me at their own pace, perhaps while nibbling on a snack or drawing, etc. (video games can be problematic but can sometimes still be a way to help the child be comfortable coming into the session).
3) Your child may or may not be comfortable talking directly to me. Even older children would sometimes prefer that their parents do the talking.  Please do not pressure them to talk to me if they are not comfortable doing so. You can be their 'voice' and they will correct you if you are not reflecting their experience.
4) Manners: None needed in my office 🙂  I would rather have your child be honest than polite.
Following my initial consultation with the parent, a typical session with a child might go something like this:
* Talk (small talk and about something that interests the child)
* Warm up imagining exercises (imagining familiar and enjoyable things)
* Short teaching piece about how the imagination helps us change (tailored to the child's age and stage)
* Talking about the child's problem, briefly.
* Possibly teaching an acupressure technique (Emotional Freedom Technique)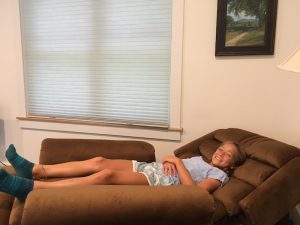 * Creation of a personal recording designed to help the child connect to inner resources that will help them relax and imagine in helpful ways. Sometimes I do this with the child here in my office in the 'cloud chair' and sometimes I make the recording after the child goes home and then send it to them. This is a matter of what is most comfortable for the child.
Children can be alone for this session if they prefer, however they are often most comfortable with a parent. Sometimes the entire family comes to learn and explore these tools and then the child will come alone for his/her specific issue after the first exploratory session with the family. Any of these options work well. It is generally a matter of logistics and family dynamics. We will talk this over in our initial parent consultation.
One of the challenges that can arise in working with young people is if parents want their children to make changes that the children are not interested in making. In general, this scenario is not a recipe for success. For example, if a parent wants a child to stop biting his/her fingernails, or to sleep more independently but that child doesn't think it is a problem, hypnosis is not likely to help. However that same child might be interested in coming in to get help improving in a sport or becoming more comfortable in some other area of their life. In a session with that child, we could address general self-confidence and calmness in such a way that when the child decides s/he is ready to stop biting fingernails, there will be a strong internal foundation to support that. In the parent consultation we will develop a plan for situations such as these.
Return to General Information about Hypnosis for Children and Teens>>